The state's bipartisan approach to governance, dubbed the Minnesota Miracle, led national headlines in 1971, when opposing parties found common ground to grow the economy and secure excellence in education.
That standard also applied to elections. Dating to statehood, Minnesota established itself as a leader in expanding ballot access by knocking down barriers to full participation. And faith in the system ran high, given changes consistently and historically stood above party politics–remaining nonpartisan even in otherwise rancorous times and even when three parties split power in St. Paul.
For their part Minnesotans responded, turning out to vote at rates consistently higher than the national average–cementing the state's rank at No. 1 for the last quarter-century.
More than 150 years of precedent was upended in 2011, however, when monumental changes to the state's election system were proposed and adopted along a series of strict party-line votes. Mimicking the political divisions playing out in statehouses elsewhere, the proposed constitutional amendment on elections unleashed a firestorm of partisan charges and counter-charges.
This website forgoes politics to consider the amendment's impacts on outstate Minnesotans and their communities. This includes a look at the significant unknowns that will remain until supporting legislation is written next year, should the amendment pass in November.

Voter Turnout 1980-2008 (presidential election years)
Minnesota's current estimated Voting Eligible Population:  3,839,640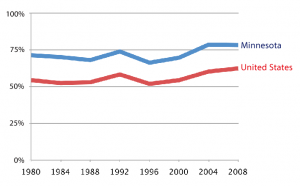 Source:United States Elections Project, Dr. Michael McDonald Department of Public and International Affairs, George Mason University